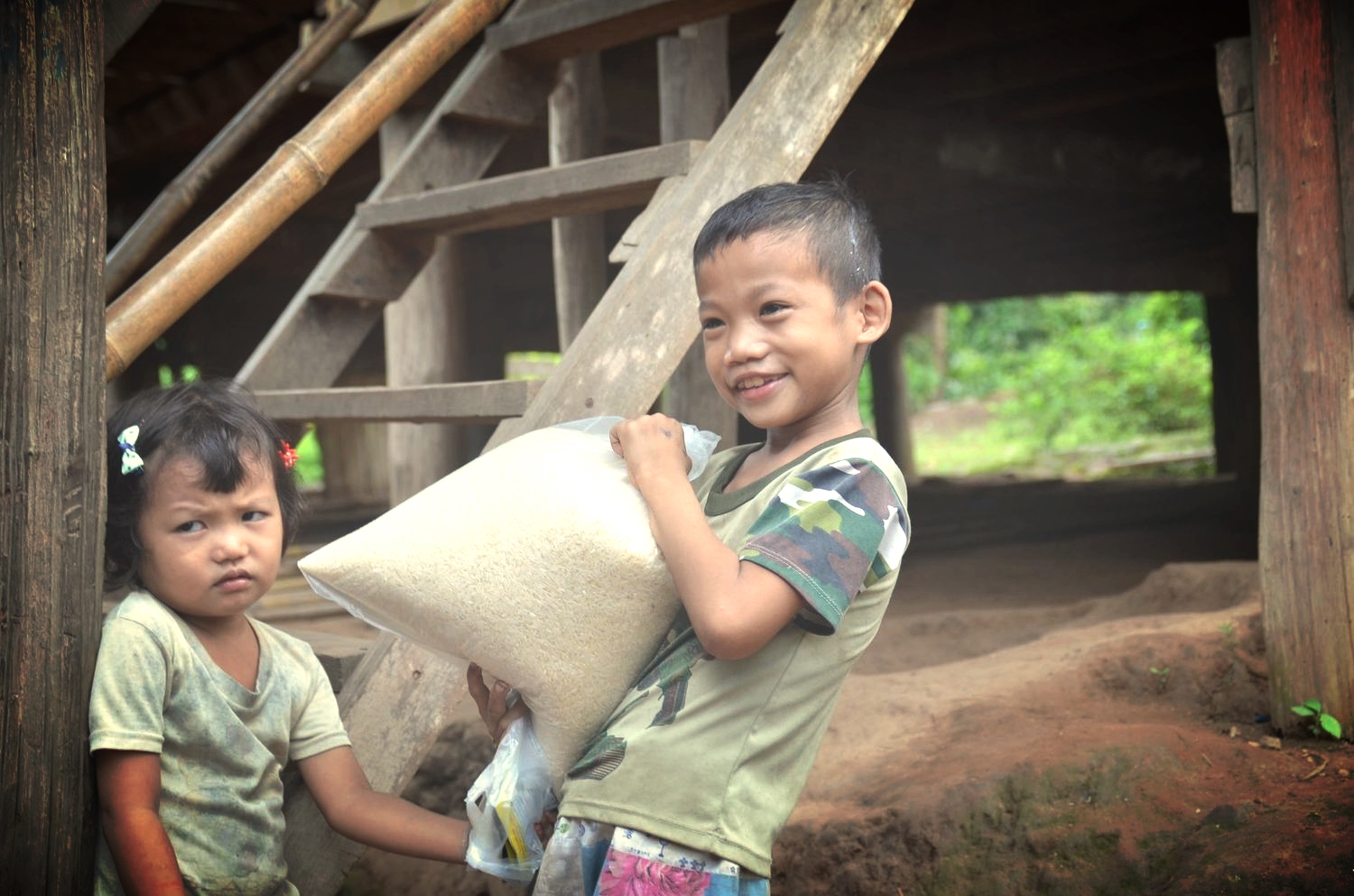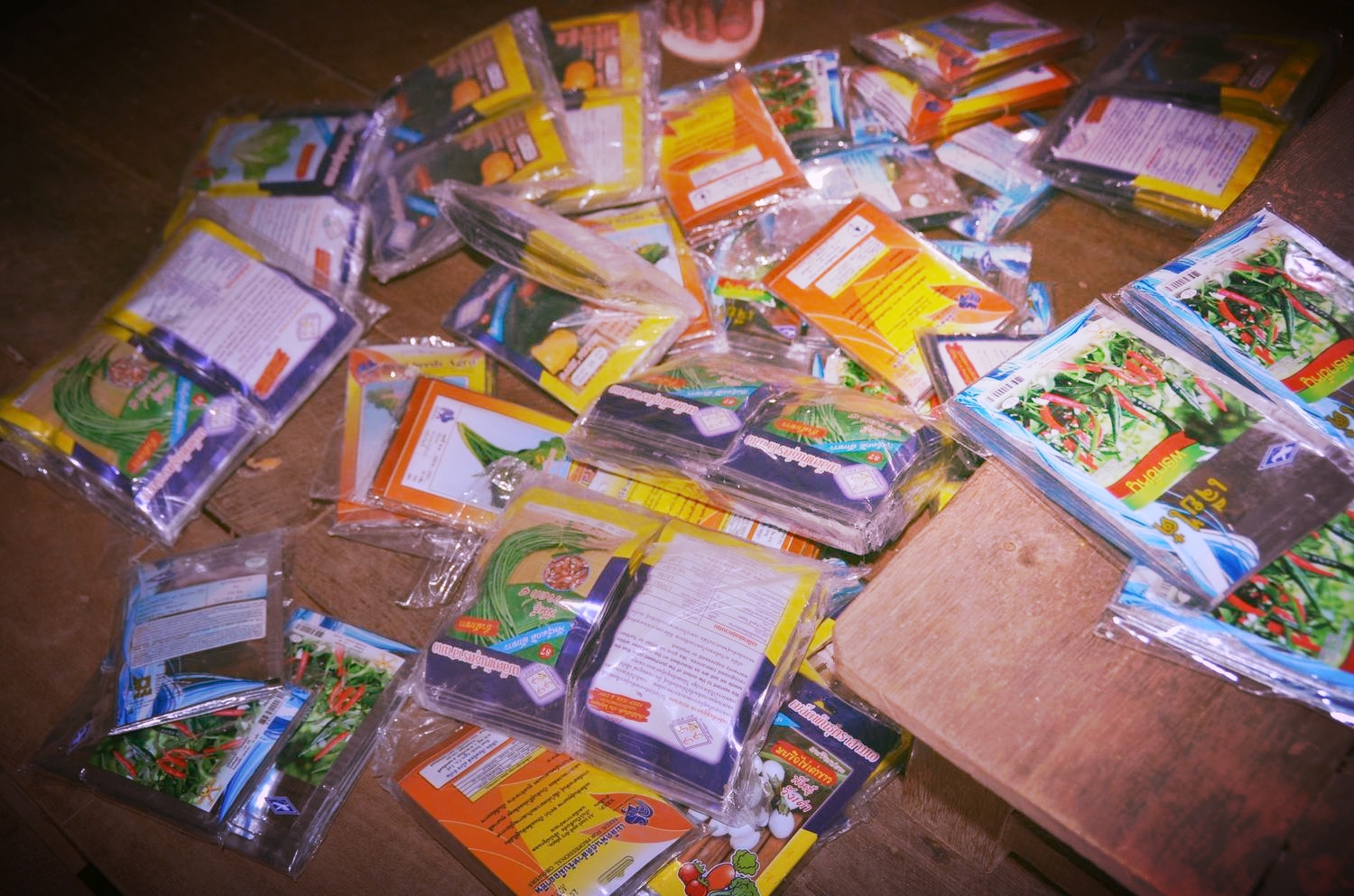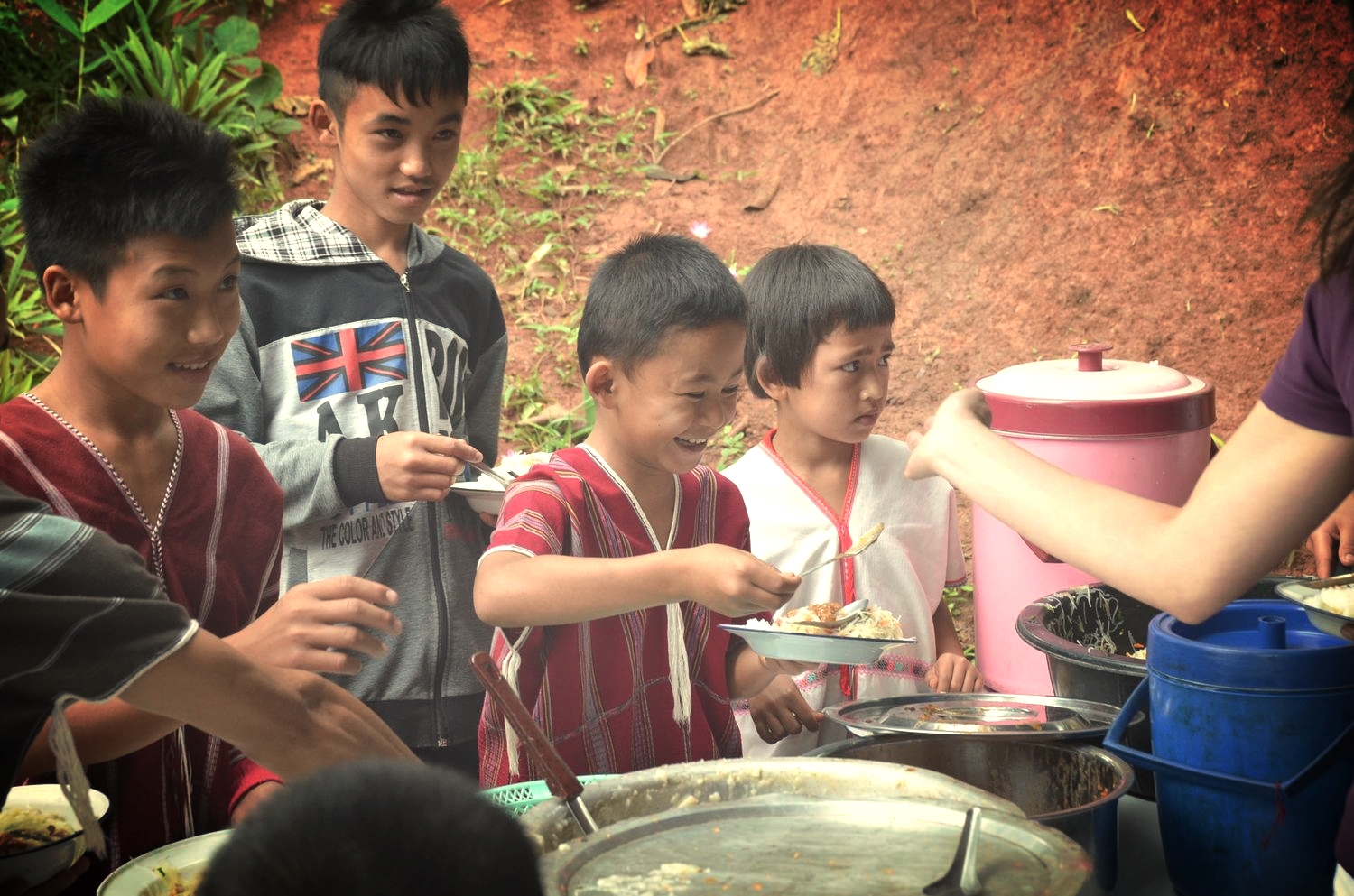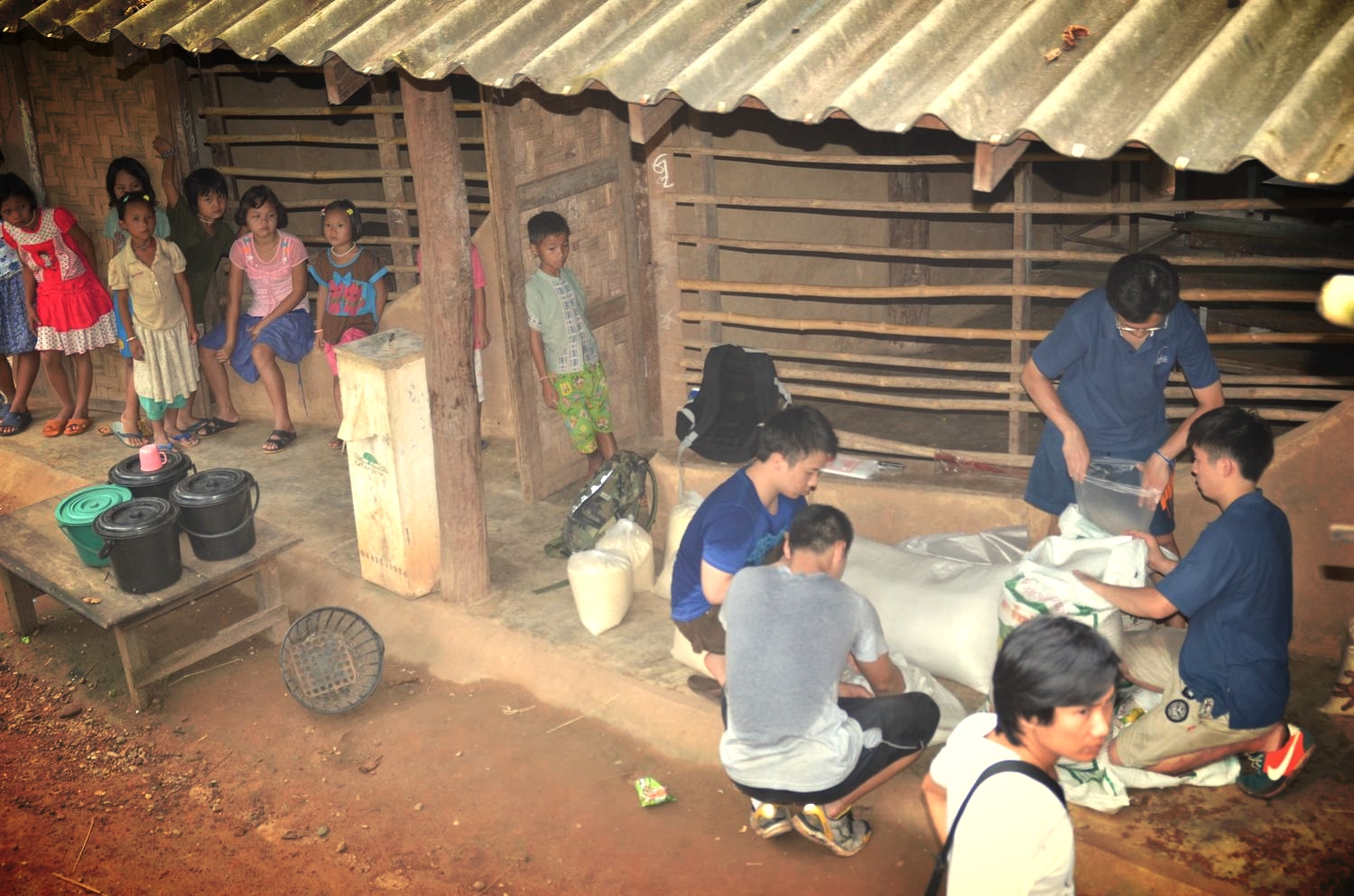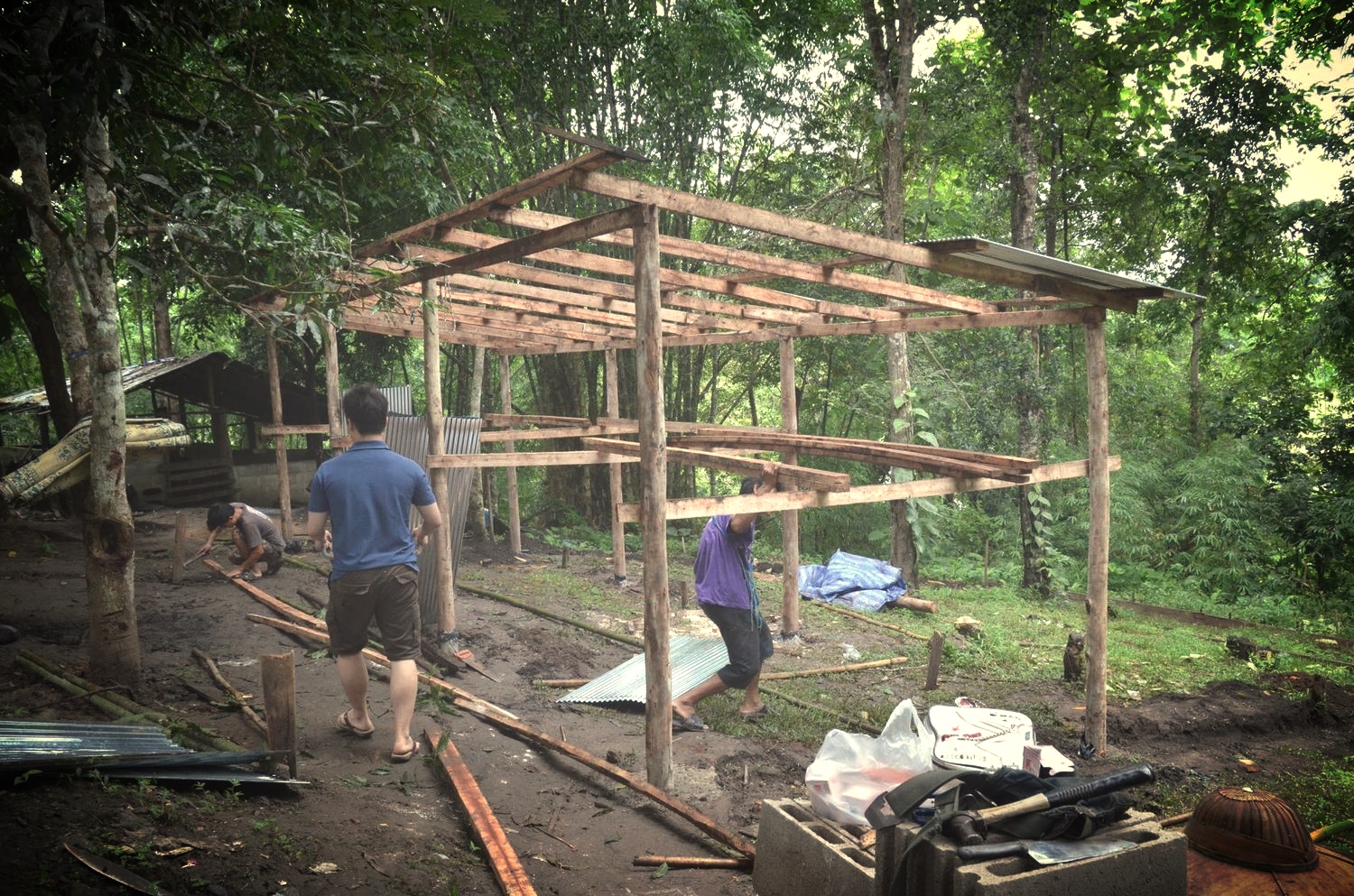 We began with a revisit to Mae La refugee camp which has a population of about 50,000 Karen refugees living in crowded teak leaf homes in close proximity. Conditions are simple, bare but yet better than their home conditions back in Myanmar.
We visited a "boarding house" in the camp. The home had a bedroom which is a large open area of about 3 meters by 6 meters which would sleep about 20 teenagers. Apart from some clothes lines for hanging laundry, there was no other furniture, no doors or any form of dividers! Seeing the photos may help to appreciate this. We were there to support the work of Rev. Simon, who gave up his life to run a school in the camp which takes in 300 students each year. We operated a medical clinic there for 2 days, seeing as many patients as possible and giving free medication. We salute the doctors who worked non-stop seeing the patients and still had a smile on their faces throughout the day. We also organised games with the children there with balloons, colouring pencils, and books, and also taught some English as we went along. Something about the laughter of children brings a deep sense of satisfaction to the soul and especially understanding the environment they are in. We also brought essentials, food like cooking oil, biscuits, noodles, and chocolate drinks, as well as necessities like toothbrushes, toothpaste and mosquito nets.
Mae La camp has left a deep impression on our hearts. While walking around the camp we noticed sand bags about half the size of our Tesco bags hanging outside the homes. We later discovered that it was their fire defence systems. The roofs of their homes are built with teak leaves. Although effective in roof material in keeping out rain and providing shelter, it would be a disaster if it caught fire, especially when the homes are built so close to each other. And that was exactly what happened to the school who were our host. Their school burnt down 2 years ago and they had to rebuild it. The sense of their resilience was just amazing. And why do we give up so easily in the west?
Outside surrounding Mae La camp there were also many refugee settlements land allocated by the Thai government with varying degrees of restriction. The residents of Mowgwee village, also Karen refugees, are given land but are not allowed to travel out of the village. Economically they cannot trade and can only be dependent on agriculture within the village. As a result, this is one of the poorest villages we visited during our trip. We visited Mowgwee on a rainy afternoon, and found that the village needed much help with the medical clinics. We also distributed 10,000 packets of vegetable seeds consisting of 7 types like spinach, pumpkin, cabbage, chilli, long beans and 300kg of rice. Having a knowledge of the village and their needs allow us to give efficiently to them. Again we were able to interact with the children with games and songs. The children were also given a brand new football and they had a fantastic time with the new ball to kick around.
We continued to visit a number of villages in that area, conducting the medical clinic and interacting with the people. In Mae Tan village our partner Steadfast Love Home was our host. BLi sponsored the building of a poultry farm for Steadfast Love Home and we were able to help do some work on the foundation together with the builders hired for this project. BLi have also sponsored to buy about 100 chickens to get the farm started.
One of the unusual encounter we had was with leprosy. This almost extinct disease that was much feared in olden days made an unexpected appearance during the night clinic at Pawyalu village. The clinic was conducted with lanterns and torches as the village do not have power supply. An elderly lady had presented her fingers that seemed withered and rotting, and her ankles suffering in a similar way. No one knew what it was, not even our experienced nurses, but it only took Dr KJ one look to identify it. We later found out that her brother also suffered similar symptoms but has now passed away. This speaks volume of the lack of medical care this village was suffering from. Given that it took us more than an hour on a 4 wheel drive to get to this village, it was unlikely that the village had frequent contact with the outside world. So it was a great privilege that we were able to operate the clinic there that night.
The next phase of our trip was to visit Mae Tho village enroute to Chiangmai. We have been working with Pastor Aceh at Mae Tho for many years now. He runs the children home in the mountain. Aceh has a remarkable story, having served in the Karen Rebel army as a high ranking officer until he was shot (yes he showed us the bullet marks on his body) and escaped into Thailand for treatment, after that decided that he wasn't destined for the army and dedicated himself in raising a new generation of children that brings hope in a different way.
We love spending time with the children here, playing and singing with them. We brought a set of recorders donated by a sister in UK and taught them to play. Yes, there were a few musically talented children. Karen people tend to have an affinity for music. To see these children growing up over the years was a delight.
BLi also sponsored some building work for them and we helped build cemented steps so that the children do not have to climb up the muddy slippery slope during the rainy season to their homes on the higher ground.
In Mae Tho we had the privilege in staying in the villager's homes, these wooden homes with teak leaf roofs that we had seen so much of late. We were shown the living room and we set up our mosquito nets. Toilets are outside the huts and pitch dark and no one showered, the saving grace was that it is much cooler here. Another thing to content with was the smell, Not sure if it's the smelly boys who had not taken showers or from the neighbour's pig.
The final phase of our trip was back in Chiangmai at CareCorner orphanage. We have been here numerous times since 2006 with supporters sponsoring some of the children and seeing them grow up. Seen some get married and have children. It was so wonderful to see the children blossom, working and serving in society. Some stay behind to serve in the orphanage. Always so blessed to talk to them again. However, it's not always smooth sailing; this trip Necky, a 16 year old HIV positive children at CCO was fairing very poorly. We visited him at the hospital, when we held him, he was only skin and bones. Our hearts ached immensely. Looking after HIV children requires a lot of love and patience and guts to go through the roller coaster of emotions. We learned much from Pastor Ricky, Lay Hwa and the staff who loved all of them unconditionally.
Moo Kata - A thai bbq buffet. We have been treating the CCO children to these every time we have been here and this year was no exception. The children absolutely loved it and team members also. The children are so polite and well trained, the older ones have been serving us the entire night. We all really great time that night.
We also repainted the basketball court in CCO. Have a look at the before and after photos, I'm sure you will agree that it's a job well done especially for a bunch of amateurs. To put it into context it was scotching hot and not what we westerners are used to. So well done team.
BLi also sponsored some essential maintenance and repair work required for the orphanage. We rebuild the wooden canopy at the main building to a metallic structure as the old canopy was becoming a hazard.
The night safari was the next highlight. We brought some of the younger children to the night safari. Each of us had a few children to look after and we just had a great time, We were able to do some touristy things in Chaingmai and at the same time spend quality time with the children of CCO.
We did our almost annual elephant ride and river rafting. Elephants were fantastic as we sat on them and trekked through a hilly terrain and the water rafting was great fun. Fantastic to be able to unwind in such a fun way!
With this the trip coming to a close there have been many memories and stories that will changed and challenged ours lives. God bless you all and thank you for all your prayers and wonderful support.